Edition 2014 : Dead Pop Club
(Pop Punk - Paris)

A force de s'entendre dire qu'il a tous les atouts en main pour rivaliser avec les groupes anglo-saxons, Dead Pop Club s'est finalement décidé à traverser la Manche, comme pour prouver que le complexe anglo-saxon n'avait plus lieu d'être en 2010.

Quelques tractations « in english » plus tard, le quatuor français s'envole pour l'Écosse, direction Glasgow, et collabore avec le producteur Chris Gordon, ex-guitariste chanteur de Baby Chaos (un groupe qui connut une certaine renommée au milieu des années 90).

Le fruit de leur collaboration est Home Rage : 12 titres qui redéfinissent Dead Pop Club comme une formation power pop punkisante au sens le plus large de ces termes. La force mélodique du groupe n'a jamais aussi bien été mise en valeur.

Au travers des euphorisants « Freaks and Geeks » et « Super Loser », du touchant « I Don't Care », du très Foo Fighters « Second Chance », du poignant « Right At Your Door », d'un « Shut The Fuck Up » aux allures de coup de boule, ou encore de la montée en puissance émotionnelle qu'est « Priority Seating », véritable clin d'oeil avoué à Weezer, Home Rage se révèle tranchant, direct et sacrément entêtant.

« These guys fucking rule ! » aurait (peut-être) dit Dave Grohl ... s'il avait écouté le disque.

Home Rage n'est peut-être pas l'album de la maturité, par contre il est sans aucun doute celui de la maturation (de plus, a-t-on vraiment envie d'être traité de mature quand à plus de 30 balais on continue à s'agiter comme des ados sur scène ?).

Dead Pop Club, c'est déjà plus de dix ans de carrière, quatre albums (trois sur Crash Disques label tenu par Marsu, ex-manager des Bérus et aujourd'hui Home Rage en coprod avec Kicking Records, Guerilla Asso et les Suisses de GPS Prod), près de 300 concerts en France et en Europe, des apparitions éclatantes sur de nombreux festivals (Rock en Seine sélection Télérama, Furia, Festival de Marne, les Inaperçus de Glaz'art...), mais aussi dans quelques salles mythiques (l'Élysée-Montmartre, le Bataclan, le Trabendo, la Boule Noire...), un avant dernier album, Trailer Park, salué par la presse et depuis sorti au Japon, des premières parties remarquées (Samiam, Wampas, Rival Schools, Trail Of Dead, La Ruda, Teenage Bottlerocket, Uncommonmenfrommars, Burning Heads, Vulgaires Machins, Guerilla Poubelle), la participation avec le titre « Ghost World » au DVD du film du même nom avec Scarlett Johanson et Steve Buscemi.

Home Rage est accompagné du single « Freaks and Geeks » dont le clip avec Thomas VDB dans le rôle principal a été réalisé par David Basso. « Freaks and Geeks » est l'hommage du groupe au cinéma de Kevin Smith, John Hugues, Joe Dante et Judd Apatow.

Dernier rempart contre l'âge adulte, le power pop punk de Dead Pop Club continue d'évoluer avec passion et plaisir comme maîtres-mots.

Et si Dead Pop Club était le secret le mieux gardé de France ?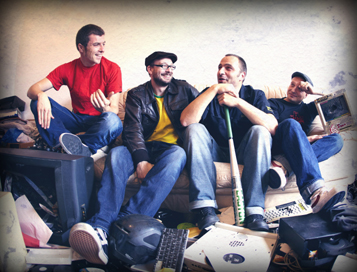 Liens :
http://deadpopclub.free.fr
http://fr-fr.facebook.com/pages/DEAD-POP-CLUB/36219364131
http://buzzoffrecords.bandcamp.com
http://www.myspace.com/deadpopclub